Indoor Air Quality Services
Certified Indoor Air Quality Experts
Indoor air quality might be far from your mind, but it plays a huge factor in the comfort levels of your office or home. At Armor Air, we care about your comfort, whether you need indoor air quality testing, duct cleaning services, or some other indoor air quality improvement. We're dedicated to keeping your indoor air clean and the indoor allergens at bay. Our certified indoor air quality specialists provide the highest quality indoor air services and are committed to making sure all our customers are 100% satisfied.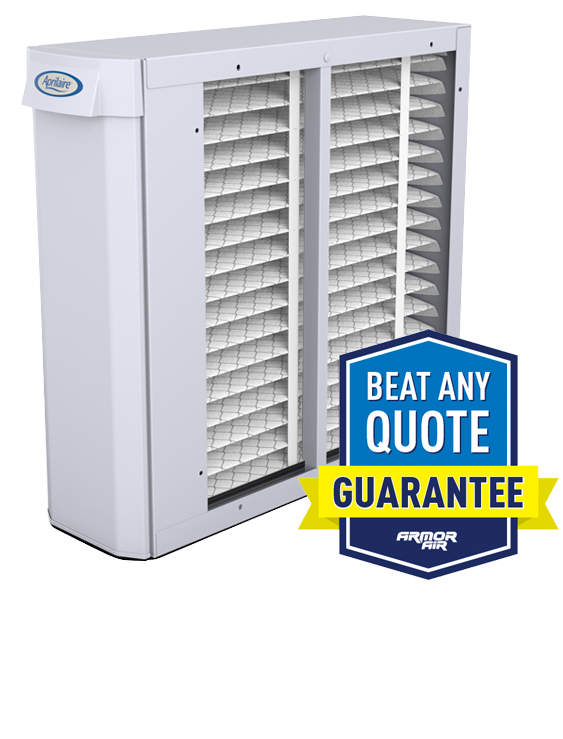 Indoor Air Quality Testing
Before you invest in specialized equipment, it makes sense to get an indoor air quality test of your home. Our certified indoor air quality specialists can determine which pollutants are present and which products will provide the greatest benefits. If you or your family members are sensitive to specific allergens, such as VOCs, formaldehyde, or microbial growth, we'll recommend products for tackling these air quality contaminants.
Services That Improve Indoor Air Quality
You can improve your home's indoor air quality by using efficient appliances to remove pollutants in the air. Air purifiers are the first defense against air particles and overall poor air quality. However, air purifiers can only do so much when it comes to removing minute specks that are too small to see. Other units such as humidifiers and UV lamps are used for removing such elements. The UV light expunges most bacteria and parasites, while the humidifier gives you control over the moisture content in the air. Armor Air's certified technician will walk you through and explain your options to achieve excellent air quality.
Here are some of our indoor air quality services and products that can improve your home's indoor air quality.
UV Lights
UV lights are powerful tools that improve indoor air quality because they can kill and sterilize common household contaminants. These lights can be installed in your HVAC system to kill mold and bacteria and funnel purified air back into your indoor air.
Humidifiers
Whole home humidifiers are great for the winter months when the air is dry. This device can help keep your dry skin from cracking and your freshly laundered clothes from clinging to you or giving you a surprising static shock. Schedule service now with Armor air to have one of these installed in your home.
Dehumidifiers
If you're seeing condensation on your windows, there's a very good chance your indoor air is too humid. Whole house dehumidifiers can help reduce the amount of moisture in your indoor air and prevent mold, mildew, and other harmful particulates from taking up residence in your central Tennessee home.
Air Purifiers
Augment your air filter's efforts with a central air purification system. These indoor air quality systems are installed in your ductwork and can remove dust mites, mold, bacteria, and viruses from your indoor air.
Filtration Systems
HEPA filters and other filtration systems can improve poor indoor air quality and help people with allergy and asthma symptoms breathe easier. These systems are great for pet owners who have issues with pet dander.
Thermostats 
The thermostat is the brain of your HVAC system. It communicates with your heater or air conditioner to produce the amount of conditioned air necessary to hit the desired temperature. Armor Air's thermostat specialists can help you set up programmable and WiFi Smart thermostats that offer energy efficiency and convenience.
Sealing Crawl Spaces
Having your crawl space sealed is another great indoor air solution. An unsealed crawl space can be a haven for mold, bacteria, insects, and rodents that carry diseases. These are all things that can negatively impact indoor air quality.
Talk to our professional indoor air quality service provider today to see what kind of indoor air quality solutions we can bring to your Murfreesboro home.
Air Duct Cleaning & Repair
It is important to have your ductwork inspected and cleaned periodically to ensure clean indoor air and the proper functionality of your HVAC system. Over time, air ducts get dirty and are susceptible to several problems that decrease their performance, which may cause energy loss and polluted indoor air quality.
Air Duct Sealing & Repair
Our certified indoor air quality specialists will inspect every aspect of your ductwork for holes and other faults, and make sure they are sealed or repaired. Plus, the entire heating, ventilation, and air conditioning (HVAC) system will be inspected by our experts for possible improvements to enhance the air quality of your home.
Give Us A Call
We understand the important role HVAC and plumbing plays in your home, and we know when something goes wrong, you need help right away. Whether you have a question or need immediate assistance, we're here to help.